GIVE HER YOUR LOVE THAT LASTS FOREVER
There is nothing woman loves more then the felling of being special to someone. Glamorous and unique golden roses will do exactly that – make her feel like she is the only one in the whole planet. Eternal Love golden roses serves as a perfect gift of your true feelings for her birthday, Valentine, anniversary or any other day of the year. Every woman values the certainty of knowing that the man in her life is serious about her. Show the lady of your life how much you love and admire her by gifting her with perfectly capture the essence of romance and genuine sentiments.
SYMBOL OF LOVE, BEAUTY AND EMOTION
Our Eternal Love collection consist of real everlasting roses dipped in 24 carat pure gold. True elegance of love that lasts forever. Fresh roses, handpicked and cut when they are at the stage of their most beautiful blossoming and which undergo a special process which takes 26 days  by completely immersed in pure 24 carat gold. Custom Hand Made Product – No two Roses are the same.
DISCOVER OUR NEW COLLECTIONS
24K GOLDEN LUX ROSE  My love is endless!
Master jewellers designed and created a real work of art, a natural rose, dipped in 24-carat gold. An everlasting symbol of eternal love. Delight and surprise your loved one with a state-of-art golden rose a prestigious gift, placed in a first-class satin box, along with your dedication note. 24K Certificate of Authenticity included. Size of rose is 11 inch .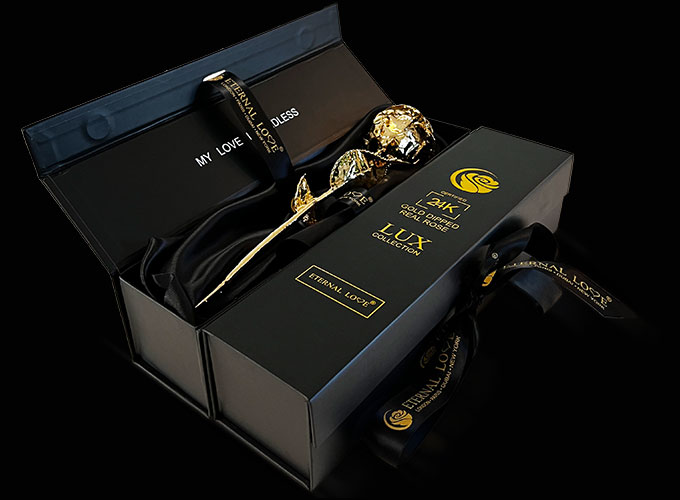 GOLDEN DOME  Of Eternal Love!
Show her your deepest feelings and emotions with three 24K golden roses in a glass dome of eternal love. Unmatched gift that will hit right into her heart. To make the story like it came straight out of the romance movie, we will discreetly add your dedication love note. 24K Certificate of Authenticity included. Size of roses are 11inch.
GOLDEN DOME Of Breathtaking Fairytale!
You will leave her speechless when she will see an luxurious and sophisticated bouquet of as many as nine eye-catching 24K golden roses, which symbolizes your passion, loyalty and devotion. The golden bouquet is placed in deluxe glass dome, where she will find your your personalized note. 24K Certificate of Authenticity included. Size of roses are 11 inch.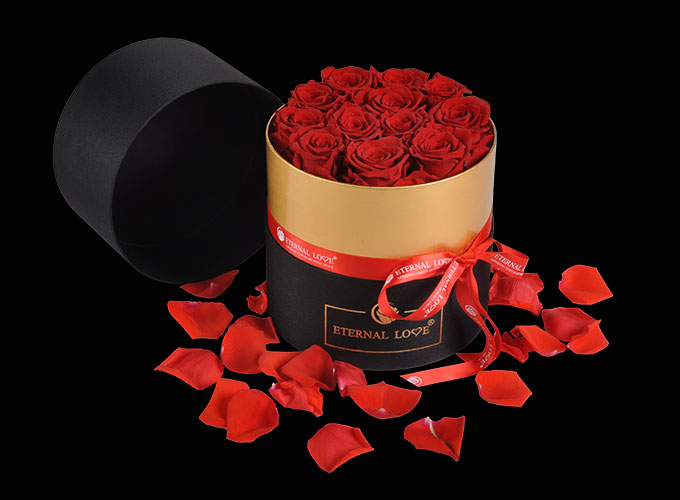 ROSES OF SEDUCTION  Kiss me every night!
We picked the most luxurious and beautiful eleven rose flower that will touch her heart with its dreamy red colours and fresh looks for at least 3 years and carefully placed it in a lush satin gift box. When she opens it, her eyes will light up. We will discreetly add your dedication secret note just for her!